Interview with Larissa Cundy
Suhl, 26.12.08 Christmas, over 7000 kilometers away from home. If you want to know what this is like – you might ask Larissa Cundy. Our new setter arrived in Suhl during the last days before Christmas and played her first game in front of the home crowd against the Fighting Kangaroos. Quite successful as we all know, and although coach and media were not satisfied with the team effort and the lost set, Larissa undoubtedly did a good job. And she was so kind to aswer us a few questions for our interview series. So a special "Thank you" from us and our readers goes out to Larissa and to team scout Olaf, who forwarded our interview questions. (SC)
Dynamics: You had your first game with our team just a couple of days after you arrived here in Germany. How challenging was that game for you, and how were your impressions of the game and the crowd?
Larissa: To be honest I was surprised I played so much and played well enough to have the team be successful. I only had 4 practices with the team, although the girls on this team are so highly skilled in attacking that it makes it easy for me. The support of the crowd and the cheering was so amazing. And I saw a Canadian flag in the corner and that meant a lot to me!
Dynamics: In Germany it's all about soccer, in Canada it's hockey. How popular is volleyball in Canada and how did you come to this sport?
Larissa: In my opinion volleyball is very under-rated, especially in Canada. When I was young I played many sports; soccer, basketball, baseball and volleyball. When it came time to choose something to specialize in, I knew I had the most potential with volleyball. My appreciation and love for the game grew and grew and never stopped.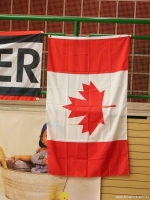 Dynamics: You're a member of Team Canada and you played for your college team and in Romania (that's what we were able to find out) – what was your most exciting game so far and what would you say was your biggest success?
Larissa: Before Romania I played in France and before that in Spain. The past 2 seasons with Team Canada have been real big stepping stones for us, and we overcame odds. The most exciting game I was a part of was when we upset Dominican Republic 3-0 in the semi-final for the NORCECA Olympic Qualifier. To be in a final against Cuba was an extremely proud moment for me and for our country.
Dynamics: You're joining the team almost halfway through the season. We presume, that this all must have happend quite quick. Was it difficult for you to get in to a new team and a new city – especially during that time of the year – and how do you like your new surroundings so far?
Larissa: Yes its true I had only a few days notice to pack my things and go, but I was very excited to play again. My seasons with France and Romania were also the same, joining the team halfway through, so I have done it before. I will say that this has been the best and most professional club that I have come to. The city is easy and not overwhelming for me to get around.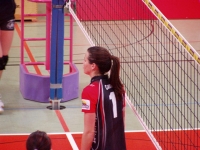 Dynamics: You have a college degree in arts (source). What are you doing aside from volleyball and what are your plans for the future?
Larissa: Right now volleyball is my profession all year round. I dont do much else besides volunteering with animal shelters. My major was Sociology and my minor was Drama. But after volleyball I want to coach.
Dynamics: Thank you very much and we wish you a peaceful Christmas and good luck for the upcoming game!
Larissa: Thank you so much for the warm welcome and holiday wishes! I was so impressed with the fans on Saturday. It made me feel happy to be a part of this team.
Interview (via Email): Ingolf Rust (SC)
[ratings]