Interview with Sherri Williams
Suhl / Haro (Spain), 05.02.2008: Two seasons she played for Suhl and she was one of the most popular players in our club. With her energy she often was able to energize both – her teammates and the crowd. That made it an even bigger gap to fill up, when she left the club in 2007, heading for Spain. There she is actually playing for the minor league team of Haro, and she did us a favour and gave us some impressions, of how she is doing in her new club. As a bonus she added some pictures of her new team, that were obviously taken after the club won the spanish Cup final.
Muchas gracias, Sherri! (SC)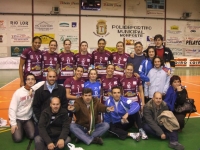 Sherri: Hello! I am sorry for the very late reply of your email. I went home for Weinachten and had a great time. My team has just won the "La Copa de Princesa" which is equal to the Pokal in Germany. Except I play in second league Spain. I heard the team made it to the Pokal Finals and I am very happy for them. The team and Suhl deserve a victory.
Dynamics: Actually your team resides on top of the table. How challenging is the competition compared to Germany, and how quick were you able to adapt to this new situation? (new coutry, new language)
Sherri: Second league in Spain is a lot better than second league in Germany. I think that my team in Haro could be in the top 4 or 5 in the Bundesliga. Volleyball in Spain is very good. I love my teammates here very much. We have a lot of fun together on and off the court. We play with a lot of passion and not only for the money. It is very hard to find that in professional sports. As for the language, I did take some Spanish in school so it is easier for me to learn than German, but I do miss hearing german from time to time. My town, Haro, is very small but has a lot of life. This past weekend we celebrated Carnival. The town had huge parade and my whole team wore costumes.
Dynamics: Your new teammate Kimberly McConaha is a fellow countrywoman. Does it help to get comfortable in the new surroundings? Did you knew each other before?
Sherri: I met Kimberly McConaha about 3 weeks before I signed with the team in Haro. We were both working volleyball camps in the state of Washington. I had never met her before then and I did not think I would ever see her again after the 3 days of working camps. I did not know she wanted to play in Spain either! It is very weird how people show up in your life. Kimberly is my roommate now and we have a great time together.
Dynamics: Your club is playing in a minor league and Haro is quite small. How are your training and "working" conditions (organization, facilities, fan support), and where ranks volleyball in Spain (fans, media)?
Sherri: We lift weights twice a week and practice everyday. We practice twice on Monday, Wednesday, and Friday. All games are on Saturdays. The team is well taken care of. I have no worries here. Our gym is nice and clean, but I will admit that I like the gym better in Suhl. The fans in Haro are great. We have less seats than the Wolfsgrube but maybe 500-700 people come to our matches. People congratulate us after the games, and almost all of the shops in town have posters of our upcoming match. After every match there is a story about our team in the local newspaper and sometimes in a national sports magazine. Some of our matches can be seen on television.
Dynamics: Haro finished the previous season on the first place. Do you know, why the team wasn't promoted to the mayor league, and will there be a chance to achieve promotion this year, if you can stay on top?
Sherri: The second league (Superliga 2) that I play in now is brand new this year. Superliga 2 was created from the bottom 5 teams from the Superliga 1 and the top 5 teams from the spanish second league. The top two teams move up to Superliga 1 and the bottom two teams from first league move down to Superliga 2. My team is still on top. We have only lost 1 match and the second place teams have all lost 3 matches. I believe we will be promoted to Superliga 1 next year.
Dynamics: Compared to Suhl, the weather in Spain is probably more like you know it from Florida, but you're still quite far away from home. How many times were you able to see your familiy and friends during your time here in Europe, and how do you cope with that?
Sherri: While in Germany I only really saw my family at Christmas. It is the same for me in Spain too. I went home this Christmas for 10 days. The season here is only 8 months long, so I am not away from home for 10 months like in Germany. Not seeing my family can be hard sometimes but this is my third year playing volleyball in Europe and I am not nearly as sad as I used to be when I first began.
Dynamics: Seven months passed since you left Suhl and the VfB. Do you still have some contacts to your former teammates and how much do you miss them?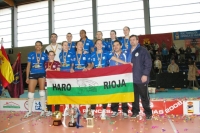 Sherri: Yes, I still write emails to some of my teammates from Suhl. I send emails to Han, Micha, and Mona. I have even talked to Jelena, who is playing in Turkey now. I miss my team from Suhl and I hope I can visit sometime soon. Maybe I will come back to Suhl in April after my season is over.
The interview was conducted by Dynamics via Mail. (SC,BX,-S.)